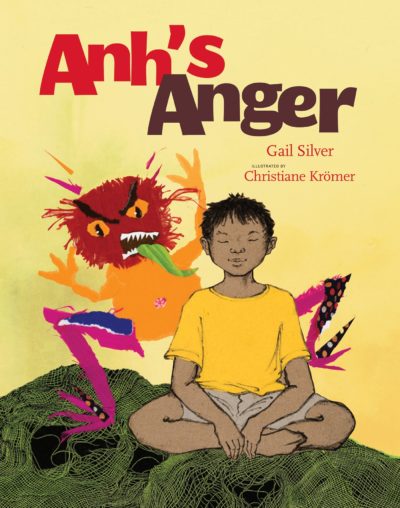 Anh's Anger
This wonderful and engaging story gives children and caregivers a concrete practice for dealing with anger and other difficult emotions. In Anh's Anger, five-year-old Anh becomes enraged when his grandfather... Read More
In stock
This wonderful and engaging story gives children and caregivers a concrete practice for dealing with anger and other difficult emotions. In Anh's Anger, five-year-old Anh becomes enraged when his grandfather asks him to stop playing and come to the dinner table. The grandfather helps Anh fully experience all stages of anger by suggesting that he go to his room and, "sit with his anger." The story unfolds when Anh discovers what it means to sit with his anger. He comes to know his anger in the first person as his anger comes to life in full color and personality. Anh and his anger work through feelings together with humor and honesty to find a way to constructively release their thoughts and emotions and to reach resolve with Anh's grandfather.
The story is beautifully illustrated with handmade collages by New York artist and children's book illustrator Christiane Kromer. Each collage is a mix of paper, acrylic, and cardboard, and found materials. The materials reflect the connection between the characters and their environment and are indicative of the wide range of emotions that come together in the story.
Anh's Anger teaches children that it is okay to feel angry, and shows the technique, often used by child therapists, of externalizing the emotion. Through taking time to "sit' with his anger, a young child is able to see his anger and talk to it and together they move through the journey of experiencing the different stages of anger until the feeling subsides and finally resolve. Anh's Anger differs significantly from other books on anger resolution techniques in showing that the child is able to talk about what transpired and accept responsibility for hurtful things that he may have said or done.
The author's intention is to help parents understand that there is an alternative to "time out's" as a means of helping children to express themselves when feeling angry, while providing children with a mechanism for internal dialogue during a "time out" or when "sitting" with their anger.
Through reading the story, children will learn to acknowledge anger when it arises, understand the cause of their anger, and ultimately feel safe expressing themselves and accepting accountability for their actions when appropriate. By learning these skills, children, will grow comfortable with them and carry them into adulthood with ease and confidence.
Anh's Anger is the first in a planned series of three books with these characters.
Additional information
Additional information
| | |
| --- | --- |
| Weight | 0.5 kg |
| Dimensions | 30 × 23 × 1 cm |
| Format | |
| Pages | 40 |
| ISBN | 9781888375947 |
About Gail Silver
Gail Silver, J.D., E-RYT, RCYT, is the author of Mindful Bea and The Worry Tree and the award-winning Anh's Anger children's book series. The trilogy includes Anh's Anger, (winner of the Skipping Stones award for multicultural awareness), Steps and Stones, (nominated for a Bill Martin Jr. Picture Book Award), and... Read More
Related Products
€

6.20

Les Petits Cailloux Du Bonheur

La méditation au creux de la main

Une initiation ludique et poétique à la pleine conscience et ses bienfaits, à travers la méditation des galets... Le calme au creux de la main... Quatre galets pour apaiser et...

View this book