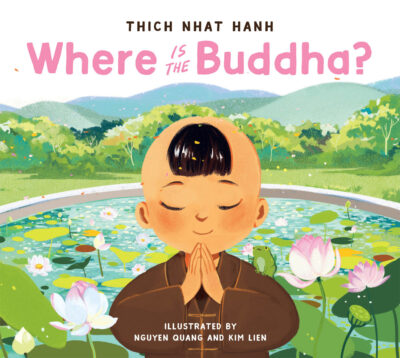 Where Is the Buddha?
A new story for children from Zen Master Thich Nhat Hanh: a young boy named Minh goes on a journey to find the Buddha, only to discover the Buddha is in each one of us.
In stock
Minh loves going to the temple with his parents. Everyone is nice to him there as they go about their daily work. But his favorite part of the temple is the Buddha statue. He is very impressed by all of the bananas, mangoes, and other fruits that people leave for the Buddha. He imagines that the Buddha must really like all of those fruits! To Minh, the Buddha statue is the Buddha.
As Minh grows up, eventually he realizes that the Buddha statue isn't actually the Buddha. But if the statue isn't the Buddha, then what is? Where is the Buddha? With his characteristic insight, sincerity, and sense of humor, Thich Nhat Hanh guides young readers through a charming tale of discovery, beginning in India with the story of the historical Buddha, Siddhartha, and then on to Vietnam with Minh and his quest.
Includes a section at the end of the book on How to Be a Buddha, with basic breathing exercises and meditations for children.
Additional information
Additional information
| | |
| --- | --- |
| Weight | 0.35 kg |
| Dimensions | 23 × 22 × 1 cm |
| ISBN | 9781952692055 |