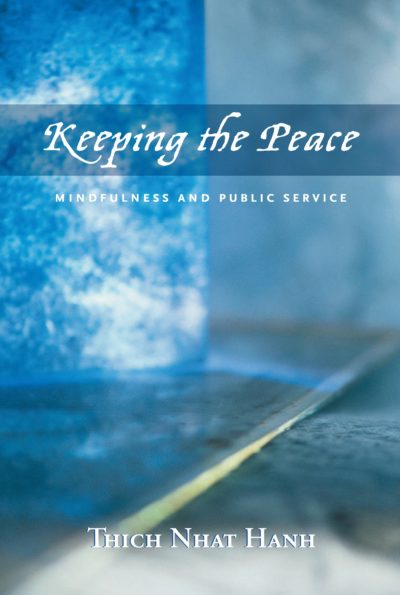 Keeping the Peace
Mindfulness and Public Service
Keeping the Peace speaks to all of us who work in difficult, people-oriented jobs and shows us how to turn environments that are often filled with anger, stress, and frustration... Read More
Only 4 left in stock
Keeping the Peace speaks to all of us who work in difficult, people-oriented jobs and shows us how to turn environments that are often filled with anger, stress, and frustration into islands of peace. Zen Master Thich Nhat Hanh creates a revolutionary definition of public service that includes all of us. He challenges us to transform the way we think about our work and offers eleven key practices to strengthen our mindfulness and joy.
Based on a retreat for civil servants, Keeping the Peace is the first book of its kind to demonstrate the usefulness of mindfulness practices for law enforcement officers, social workers, teachers, and others in people-helping professions.
With empathy and humor, Thich Nhat Hanh demonstrates the need for public service professionals to cultivate their own inner peace in order to help others. In clear and simple prose, he offers a path for how we can reduce violence in ourselves, our workplace, and ultimately, in our world.
About Thich Nhat Hanh
Thich Nhat Hanh was a world-renowned spiritual teacher and peace activist. Born in Vietnam in 1926, he became a Zen Buddhist monk at the age of sixteen. Over seven decades of teaching, he published more than 100 books, which have sold more than four million copies in the United States... Read More
Related Products
€

15.00

Good Citizens

Creating Enlightened Society

In Good Citizens, Thich Nhat Hanh lays out the foundation for an international solidarity movement based on a shared sense of compassion, mindful consumption, and right action. Following these principles,...

View this book