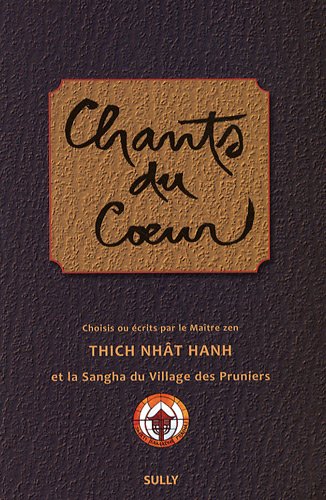 Chants Du Coeur
Choisis Et Ecrits Par Le Maitre Zen Thich Nhat Hanh et la Sangha Du Village Des Pruniers
Thich Nhat Hanh a fait une étude comparative des soutras dans le trésor du Canon chinois et du Canon pali pendant de nombreuses années : Empli de compassion pour la... Read More
Out of stock
Do you want to be notified when this product is back in stock?
Thich Nhat Hanh a fait une étude comparative des soutras dans le trésor du Canon chinois et du Canon pali pendant de nombreuses années : Empli de compassion pour la souffrance dans notre monde actuel, il a fait une sélection de soutras appartenant aux deux traditions : le Bouddhisme originel et le Mahayana, non pour satisfaire notre connaissance, mais pour nous aider à voir comment : transformer notre souffrance dans ta vie quotidienne : Dans cette sélection originale, vous trouverez certains, soutras qui ne sont ni chantés ni connus dans d'autres monastères.
Vous tenez entre vos mains un livre très précieux : celui des Trois Joyaux.
Additional information
Additional information
| | |
| --- | --- |
| Weight | 0.5 kg |
| Dimensions | 23 × 15 × 2 cm |
| Language | |
| ISBN | 9782354320324 |