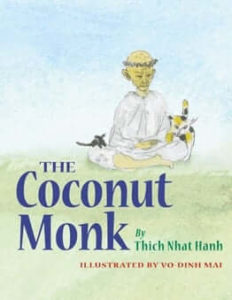 The Coconut Monk
Zen Master Thich Nhat Hanh's second children's book is the story of a monk, a cat, and a mouse learning to live together in peace in the midst of war.... Read More
Out of stock
Do you want to be notified when this product is back in stock?
Zen Master Thich Nhat Hanh's second children's book is the story of a monk, a cat, and a mouse learning to live together in peace in the midst of war. Set against the background of the Vietnam War and based on an actual person, The Coconut Monk uses the image of an eccentric monk who has found a way for archenemies to live together peacefully. Based on a talk given directly to children, Thich Nhat Hanh uses the image of a cat and a mouse as metaphors for overcoming seemingly unconquerable divides of nature and opinion. Using the example of extending unbiased kindness and remaining calm and centered in the midst of upheaval, the story teaches children the Buddhist principles of equanimity, compassion, and perseverance. Amidst adversarial circumstances the figure of the Coconut Monk remains focused on his practice and continues to radiate all-encompassing love. It's direct expression – a Buddha like smile – is an image well familiar even to those children that have not been previously exposed to Buddhist ideas and principles.
With full-color oil-paintings by Vietnamese-American painter Vo-Dinh Ma, illustrator of award-winning children's books including First Snow and Hermit and the Well.
With a new introduction by the author.
Additional information
Additional information
| | |
| --- | --- |
| Weight | 0.220 kg |
| Dimensions | 28 × 21.5 × 0.33 cm |
| ISBN | 9781888375978 |