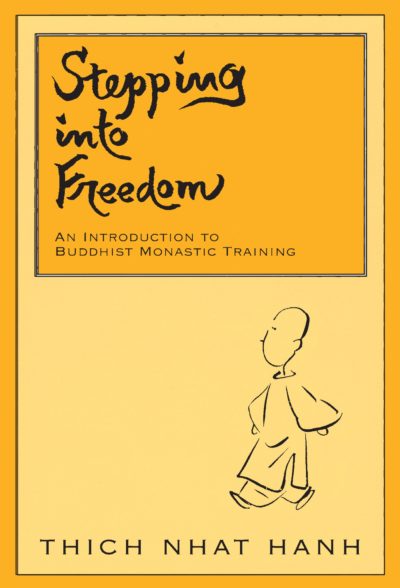 Stepping into Freedom
An Introduction to Buddhist Monastic Training
Have you ever wished for a simpler life or an opportunity to transform the stresses of the busyness and complexity of our fast-paced society? Stepping into Freedom offers us a... Read More
Only 1 left in stock
Have you ever wished for a simpler life or an opportunity to transform the stresses of the busyness and complexity of our fast-paced society? Stepping into Freedom offers us a look at Buddhist monastic life and shows us all ways to live simply, beautifully and happily while dwelling in the present moment. It is a book of guidelines, encouraging words, reminders, and poems for novice monks and nuns in the Buddhist tradition.
Included are basic teachings on conscious breathing, sitting and walking meditation, and "mindful manners" that can help us reduce stress, lead a wholesome and happy life, and cultivate our mind of love, whether in a monastic society or in the larger society of the world.
Thich Nhat Hanh has taught four generations of young monks and nuns in Vietnam and the West, as well as thousands of lay practitioners. In Vietnam he cofounded the An Quang Buddhist Institute and the Van Hanh Buddhist University. He has studied and taught at Columbia and Princeton Universities, and the Sorbonne.